Last night, my dad, brother and I went over to Swee Choon Tim Sum Restaurant for dinner! We would have had lunch or high tea but the restaurant only operates from 6pm till 6am. We arrived at about 6.30pm and already there was a long queue for the indoor seats, which were air-conditioned. The restaurant spans four unit spaces so to say that it was already full-house half an hour into opening time would surely indicate something about the food there! We opted to sit in the open-air, and got to skip the waiting line. After all, we weren't going to let our tummies wait just to be seated in air-conditioned comfort!
The menu was huge, they seemed to have all kinds of delicious Hong Kong and Shanghai snacks! Or rather, dim sum and la mien. We ordered the char siew soh (
叉烧酥)
, Portuguese egg tarts (
葡式蛋撻)
, yam fritters (芋角), salted egg yolk custard bun
(

奶黄流沙包)
, har gao (虾饺), steamed pork ribs (豉汁排骨), mee sua kueh (面线粿), hor fun with shrimps (滑蛋虾仁
炒
河粉) and two servings of yam paste with ginko nuts and pumpkin (南瓜白果芋泥).
We waited close to five minutes for the food to be served to our table.
There were two huge, flaky pastries on the plate and we cut it into halves, thus able to see the juicy red meat inside. The pork was a bit too sweet, but not like those artificially flavoured/coloured kinds of char siew you find sold elsewhere. The pastry was flaky and crisp, but a tad too oily.
Portuguese egg tarts (
葡式蛋撻
)
The egg tarts looked unpromising at first glance, what with the scorched brown marks on the egg and the oil-soaked bottoms. However, one bite and BOOM I'm an instant fan. The pastry is buttery and flaky, reminding you of the calories in each sinful bite but you go ahead and finish the whole tart anyway. The egg custard is moist and sweet, altogether a lovely combination. My brother wanted to buy another two egg tarts after greedily stuffing the first one into his mouth!
This is my first time trying a yam fritter so I was a little skeptical at first, looking at the huge fried ball of yam. However, I gave it a try anyway and boy was I glad I did! The fried outer layer is crisp and flaky (is it just me or is everything here flaky!) and a little greasy. The filling was absolutely divine! Think a ball of huge, steaming hot pork!!! It reminds me of the chicken puff kind of pastries from French patisseries. I probably would eat it again despite the fats it contains.
Salted egg yolk custard bun (

奶黄流沙包)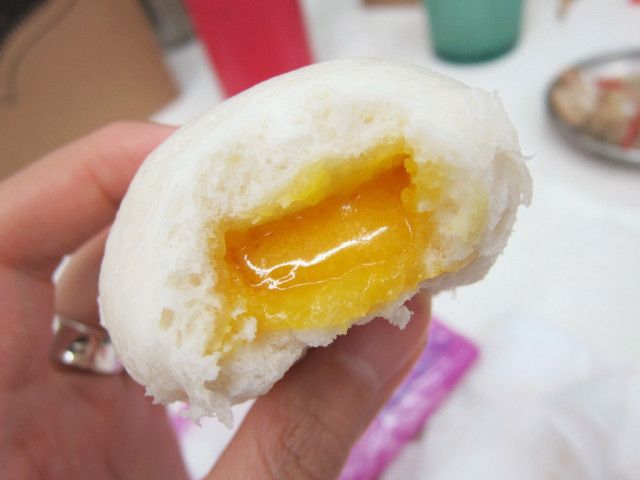 This has to be the highlight of the meal! My dad has been ranting and raving about molten custard buns since forever, and all the custard buns we have tried thus far have been disappointing, lacking the molten golden lava center. I was eager to try one of these so-called heavenly buns that got my dad so hyped! When the buns were served (in a cute little steamer basket, no less), I immediately peeled one open and was so thrilled at the sight of the rich, golden filling oozing out of the pearly white bun. It tasted a bit too yolk-y for my liking, as I do not like egg yolks, but nonetheless, I enjoyed the bun. The bun, when drenched in the custard, was delicious!
For the most part, the har gao was forgettable. It was $2.50 for two pieces, not worth the price if you ask me. However, at my brother's insistence, we bought a plate to try. I don't enjoy har gao so my dad and brother had a har gao each. According to my brother, it was delicious - the shrimp was big and juicy and the skin was not too thick, but he also agreed that it is not worth paying so much for two pieces of shrimps.
There were more bones than meat here and the dish was quite small, quite a disappointment.
The Swee Choon mee sua kueh is one of the specialty dishes that is unique to Swee Choon, translate: a must try for first-timers!!! The kueh is deep fried to a crisp on the outside while the inside is packed with mee sua (vermicelli). The seemingly bland dish (the mee sua inside was really white) tasted surprisingly good and fragrant, so do not underestimate it! It was too oily though, as the crisp outer layer soaked up quite a bit of oil.
Hor fun with shrimps (滑蛋虾仁

炒

河粉)
I was skeptical about the non-dim sum dishes offered as after all, we go to a dim sum restaurant to eat dim sum and not tze char dishes, no? However, I was pleasantly surprised by the perfectly fried hor fun, which was tasty and oh-so-good! I didn't dare to slurp up the egg gravy though, as if I'm not already piling on the calories with all the other fried dim sum dishes!
Yam paste with ginko nuts and pumpkin (南瓜白果芋泥)
The pictures look terribly unappetizing but the yam paste is actually quite decent. We ordered two servings but each serving was so huge, we couldn't finish it all. Besides, I just had yam paste for lunch so this might have been too much of an overkill. The dessert was served in a cute little steamer (?) and was drenched with coconut milk. Ugh, the calories! Not being a fan of ginko nuts and all, I scrapped most of the upper layer and gave it to my dad, thus eliminating (hehe) the coconut milk! Even though the taste is decent, I would not order the yam paste again, as I think this experience of too much yam has turned me off yam paste. However, I wouldn't mind just taking a spoonful from someone else if they happened to order it!
Overall, the food here is delicious and affordable ($33+ for 3 people, including GST) and I can see myself frequenting this place in the near future. The restaurant has its hits and misses, but then again which restaurant, or eatery, doesn't? The only downsides are the location (quite a long walk if taking public transport), the waiting time, if one wishes to enjoy his meal in cool air, and last but not least, the operating hours!!!!!!!! I would love to have dim sum for high tea or lunch but....................... :-(
Swee Choon Tim-Sum Restaurant Pte. Ltd.
185/187/189/191 Jalan Besar
E-mail: admin@sweechoon.com
6pm to 10am (Mondays to Thursdays)
6pm to 12noon (Sundays and Public Holidays)
Nearest MRT station: Lavender/Little India
Payment by cash and NETS only!
Sidenote: Pictures taken mostly from
here
as I forgot to bring the DSLR and iPhone photos simply do not do the food justice.